Scalable Manufacturing
With Access Optics, one leading multi-national medical device accomplished all of the above in less than four months with exceptional results. Find out how.
 SITUATION
A multi-national medical device manufacturer with international sourcing reach developed and began manufacturing a new state-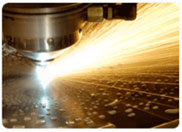 of-the-art endoscope. In short order, operational costs for its internal production efforts produced unacceptably low margins. This prompted the manufacturer to overhaul the entire product sourcing strategy. Shortly after outsourcing the key optical components to a third-party manufacturer who proved to have marginal capabilities, product quality soon suffered and sales quickly diminished. In addition, this third party supplier required the OEM to carry large component inventories, creating excessive financial liability.
What this customer really needed was a supplier/partner who could not only consistently meet component specifications, but could also successfully produce high-level sub-assemblies and cut costs without disrupting supply.
SOLUTION
The medical device manufacturer selected Access Optics for this critical role as its new supply chain partner. Within weeks, Access Optics was supplying successful optical components and began understudying the customer's manufacturing operations. In a few short months, Access Optics scaled up full production of all components to thousands of units per year, transferred critical technology to build and deliver top-level sub-assemblies and seamlessly interfaced with the customer's inventory and documentation systems.
Thousands of defect-free components and assemblies later, the customer was able to secure market leadership with its advanced product technology and achieve greater than expected profit margins.
BENEFITS
Both the immediate and long-term benefits of Access Optics's project leadership are undeniable. By allowing AO to take the reins and consistently exceed design requirements, the customer, who was once on the verge of a product line failure, has enjoyed enduring market success.
By outsourcing the entire subassembly manufacturing to ACCESS OPTICS, the customer has experienced manufacturing cost reductions of over 30% and eliminated costly inventory through kanban deliveries.